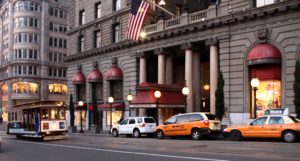 If you compare other America cities with San Francisco, you will realize that this city is one of the most expensive. This can easily be reflected by the hotel rates.  San Francisco is home to the most modernized luxurious properties. This includes the astonishing skyscraper hotels, and discrete stylish lodgings. Some of the most luxurious hotels are;
Loews Regency
It is located at the third tallest building in Francisco. Few hotels can compare with Loews regency.  The rooms are so fascinating such that it may take a while before the guest notices the much details on the inside. Once they realize the interiors, they will discover that the Loews Regency has got a touch of quality. Not only will they be shocked by how big it is, but also the kind of amenities that are found in the hotel. Only to mention a few amenities found here which include but not limited to big marble bathrooms, king sized beds, and a fully equipped and a modern gym.
Huntington Hotel
Although it is one of the oldest hotels in Francisco, it stills maintain that attractive mature clientele. The hotel underwent a refurbishment process on 2014 which led to some its room modernized and also  made spacious. Though many rooms still maintained their old and warm charm. It as one of the most popular hotels in the city and unarguably a great city view. The hotel is just some few meters away from china town, fisherman's wharf, and union square.
Fairmont
The hotel was opened in 1907. Being one of the oldest hotels in the city, it largely offers its services to business travelers. The hotel has about 600 guest rooms and it offers fine dining. With a spectacular view of the city and a bay from top of the nob hill, the hotel presents supreme mixture of superior and luxurious accommodations, refined meeting spaces, and excellent services.
Four seasons
Located at the soma skyscrapers, the hotel occupies the 5th to 17th floor of the building. The hotel's contented, well equipped rooms, with marbles finishing bathrooms, and each having a 42 in smart TVs, are among the city best hotels. The hotel boosts of a 24 hours rooms service and a couple of daily housekeeping. Additionally, the hotel has a sporting club, spa, and a pool all under one roof. But the extra amenities are operated and managed separately from the hotel, limiting the hotel from acquiring the  four seasons level of décor and services. Interesting activities to do at the San Francisco golden gate bridge is one of the post which you must read if you are new in San Francisco City, California.